Folks, I promised you Bundesliga content, and despite overwhelming ignorance and the fact that I've never watched a single match in its entirety, I will deliver. The top German domestic soccer league will resume its season tomorrow in an effort to complete the last nine matches, and while technically South Korean baseball owns the "first major sports league to return" belt, the Bundesliga has the advantage of not being on at 3 a.m.
(Two quick links: my friend "Arnold" discussed the benefits of German soccer at the 48:52 mark of this week's earlier podcast, and former Deadspin writer Drew Magary talks Korean baseball in yesterday's podcast. "Arnold" is in quotes above because he wisely used an alias, knowing that all my podcast guests immediately go on an FBI watch list. And not one of the good ones.)
This means that LIVE SPORTS ARE BACK. The action starts tomorrow at 9:30 a.m., and you can see the first fixtures here. Note that as we go forward, hardcore German-heads will notice a lot of missing umlauts. That's on purpose—I refuse to figure out how to type it. One day I might start a new Patreon tier for proper foreign accents.
Who to Support?
Amazingly, one of the other people in my sports nerd Slack (online chat room) designed a flow chart to help answer this exact question, and that seems like a perfect place to begin. The work you see below comes from the mind of Drew Harris. I have not figured out how to let you click on an image to see the full-sized version, so while I'm inserting the flow chart below, you have to click this link to actually read it (I think you can also click the image).
I followed the chart, and because I'm a loathsome bandwagoner who can't stand to follow a mediocre team, I ended up with Borussia Dortmund. And that's only because I lied to myself by claiming I could settle for second place. In fact, if left to my own devices, I'd pick Bayern Munich every time, just like I picked Liverpool to follow this season in the Premier League. I'm the worst.
Next, I tried the same process, but ignoring my frontrunner tendencies and pretending I was the best possible version of myself. Do I need an American rooting interest? Hell no! I'm enlightened! Do I want a chance to win the league? Not necessarily! I'm in it for the history and the culture, baby! How do I like my fanbase? Passionate! Love to meet up with my German soccer mates, have an Oktoberbrew in a three-gallon stein, and dance around in liederhosen. What's next…passionate, and…ready to seize the means of production! That gets me FC St. Pauli, a team that Drew informs me is not actually in the Bundesliga, but that he included because they're "wild." I asked Drew what that meant, and he wrote:
They are a "kult club." In the 80s their fans took a really aggressive stance against right wing hooligans, and they shifted their culture to a very left wing, social activism type scene. They're based out of the red light district in Hamburg, so there's a big party atmosphere with that. So basically they're anti-fascist punk ultras who fly skull and crossbones and love a good time.
Here's more from Wikipedia:
It was in the mid-1980s that St. Pauli's transition from a standard traditional club into a "Kult" club began. The club was also able to turn the location of its ground in the dock area part of town, near Hamburg's famous Reeperbahn – centre of the city's night life and its red-light district – to its advantage. An alternative fan scene slowly emerged, built around left-leaning politics, social activism and the event and party atmosphere of the club's matches. Supporters adopted the skull and crossbones as their own unofficial emblem. St. Pauli became the first team in Germany to officially ban right-wing nationalist activities and displays in its stadium in an era when fascist-inspired football hooliganism threatened the game across Europe. In 1981, the team was averaging small crowds of only 1,600 spectators, but by the late 1990s they were frequently selling out their entire 20,000-capacity ground.
The skull and crossbones symbol had always been associated with St Pauli (the city quarter) in one way or another. Hamburg fostered the most famous pirate of Germany, Klaus Störtebeker, and the symbol had been used by the 1980s squatters at Hafenstraße. However, the one who should be credited with finally bringing the symbol to the terraces is probably Doc Mabuse, the singer of a Hamburg punk band. As the legend tells, he first grabbed the flag from a stall while passing drunk through the Dom on his way to the Millerntor-Stadion.
That actually sounds amazing. I'm thrilled that the cool version of myself that does not actually exist chose them. You can read a cool feature about the club here. For me, it's back to the real world, and rooting for the fascist juggernauts.
Which Match Should I Watch Saturday?
There's no question: The best match for a neutral supporter is Borussia Dortmund vs. FC Schalke 04. Dortmund is second in the standings, still within range of Bayern Munich, and Schalke is sixth, but what really makes this fun is the historic rivalry. As my pal Sebastian noted in a recent comment earlier this week, "the significance of the Dortmund-Schalke rivalry (Revierderby) cannot be overstated. Probably only outdone in all of Europe by Barça-Real." And folks, that comes from a real live German.
The two clubs are about 25 miles from each other in Germany's industrial, working-class Ruhr Valley in the northwest part of the country. The Revierderby (Revier means Ruhr) has been going on since 1925, and Saturday's match will be the 180th meeting. Amazingly, the overall Bundesliga record between the clubs is dead tight, with Dortmund holding a 33-32-30 advantage. Lucky for me, the Bundesliga put together a "top ten rivalry moments" video in 2014, and it's even in English. This is exactly, extremely the kind of content I was hoping existed:
I don't expect anyone to watch that whole video, but there's a bit at 6:50 you can't miss: It's old black-and-white footage of fans crowding the field at Dortmund, and the narrator says, "this derby has always had teeth. In the past, fans watched the match right from the edge oft he pitch, with dogs keeping everyone back." And there's a literal dog on a leash barking at fans to move them back for a corner kick. Then, after a goal, the fans rushed the pitch, chaos ensued, and TWO SCHALKE PLAYERS GOT BIT BY DORTMUND'S DOGS. Not a joke. Here's a post-bite picture, and it's okay to laugh because the player finished the match and was fine (though he had to get a tetanus shot and had a scar for life):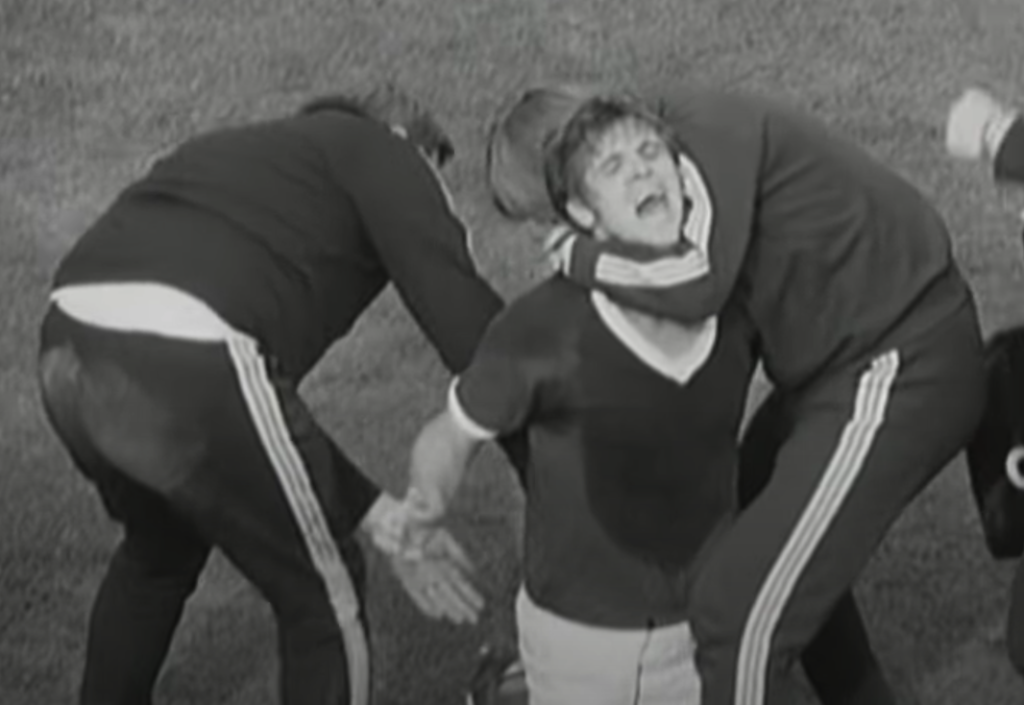 In the next match, Schalke decided it would be funny to bring out a lion:
Another great story: After denying Schalke its first title since 1958 with a spoiler 2-0 win in the second-to-last match, Dortmund reacted with a troll job that was ahead of its time:
Back before fans hiring aeroplanes to fly banners had become popular, BVB fans did just that to taunt the people of Gelsenkirchen for their decades-long title drought. The banner read: "A whole life with no shield [league title] in your hands".
Folks: this is my kind of rivalry.
One moment not featured in that highlight video came after it was made, in 2017, when Schalke managed to force a draw from down 0-4. The comeback starts at 2:40 here. The highlights are in German, but that somehow makes it better.
So, after studying up on the Reviererby, and checking out this overview Sebastian sent along, I think I'm ready to strike a grand compromise and become a Schalke supporter. It doesn't seem like there's any whiff of fascism, they're actually good, and Drew informs me that their manager had an American father and played for the U.S. national team a few times, and one of their best players, Weston McKennie, is also American. (With a name like that, what else could he be?)
The match tomorrow can be seen at 9:30 a.m. on FS1. Drew tells me that the players to watch for are McKennie and Amine Harit for Schalke, and Jadon Sancho and Erling Haaland for Dortmund.
On FS2 at the same time, RB Liepzig, the current third place team, is playing. If you listened to the podcast from Tuesday, you know that the RB pretty much stands for Red Bull, the team owner, except that German sponsorship rules force them to pretend it stands for Rasen Ballsport, or "lawn ball sport." They're the new money darlings of East Germany.
Oh, You Want Another Flow Chart?
As fate would have it, when I asked verified German Sebastian for any other tips, he sent me a second flow chart to help you decide who to support. I see no reason not to include it. Again, click the picture to make it full-sized: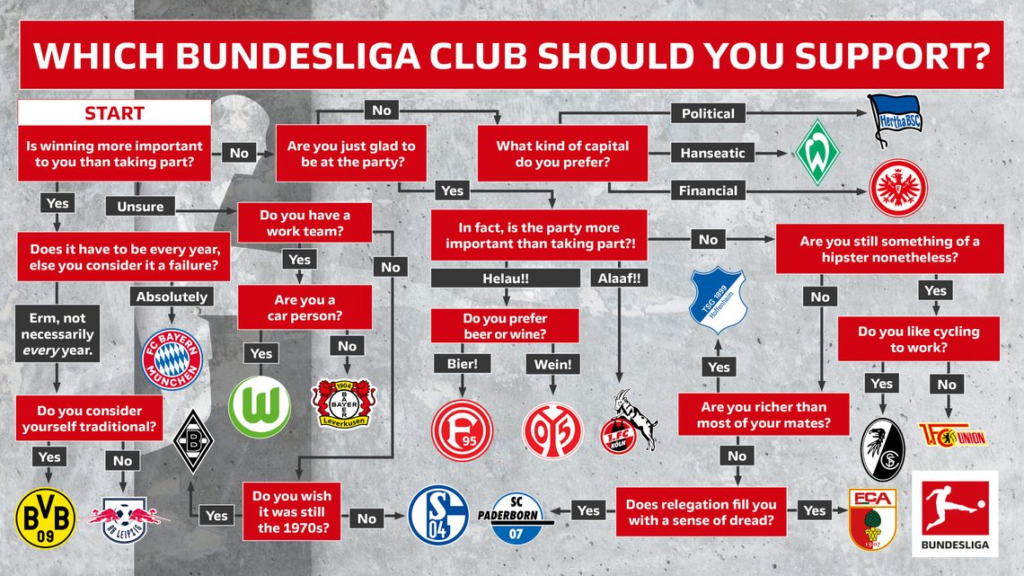 Once again, the pathetic real-life version of me got Borussia Dortmund, but this team the idealized version got Borussia Monchengladbach, because I do kind of wish it was still the '70s.
What Else?
Borussia Monchengladbach, who are fourth in the league, play at 12:30 on FS1 if you want to make it a doubleheader (note: I absolutely do), and on Sunday at noon, the undisputed kings Bayern Munich return against a team from Berlin. "Arnold" tells me that, somewhat surprisingly, the Berlin clubs are pretty bad.
Finally, if I had to pick based on cultural sentiment only, I would choose a team that you can watch Sunday morning at 9:30 a.m., FC Koln. Why? Because my favorite style of beer, Kolsch, comes from the city of Koln (aka Cologne, if you want to Americanize it), and also because one of the coolest musical moments in history happened in Koln. Pull up a chair, my friends, as I try to keep it relatively brief:
In 1975, the jazz pianist Keith Jarrett was schedule to play a concert in Koln organized by a 17-year-old girl named Vera Brandes (who, per Wikipedia, enjoyed the distinction of being "Germany's youngest concert promoter," which seems very much like a thing that only Germans would keep track of). Jarrett requested a specific piano, which Brandes obtained, but the staff at Opera House made a mistake and failed to deliver the piano, instead using their own rehearsal piano, which was out of tune and basically didn't work in the upper registers. Brandes tried to get the right piano sent in at the last minute, but there was a rainstorm that night, and the risk of damage was too great.
Jarrett arrived exhausted after a long drive in from Zurich—he was in the midst of a European tour—and his back hurt him so much that he was wearing a brace. Worse, the show wasn't happening until 11:30 p.m. because there was an opera on beforehand. Then there was a delay at the restaurant where he was supposed to eat, so he got no dinner, and when Jarrette found out about the piano, he almost refused to play. But there were 1,4000 people waiting for him, and Brandes convinced him.
It was a formula for disaster, and yet, somehow, the result was stunning. Jarrett had to play mostly in the middle of the piano to avoid the broken parts, and though I'm not smart enough to understand how he did it, he pulled it off beautifully, and the recording of the performance sold 3.5 million copies and became both the all-time best-selling piano album and solo jazz album. I loved it before I knew the story, but the story makes it even better. If you're ever in the mood, you can listen on Spotify here. Even if you just have 25 minutes for the first track, part one, I'd love to hear what you think. The section starting around 21 minutes never fails to give me goosebumps, although I do think it's one of those things where you need to hear the full track to get to that emotional place.
So, in short, I know nothing about the city of Koln, but because of beer and music it has a place in my heart. Unfortunately, the team itself seems to be mediocre, so I'll stick with my Schalke lads.
IN CONCLUSION
German soccer is here to save us! Enjoy the matches tomorrow, and have a terrific weekend.
*
As usual, please feel free to forward these posts on to anyone you think might enjoy it. If they read for a couple days and don't become subscribers, you can cut them off without mercy. If you're getting these and want to get locked content, including two podcasts each week, you can subscribe here.