I've got a strange connection with Brendon Todd, and it's a connection that he probably thinks of approximately never. But in 2014, when he won the Byron Nelson, we sat down afterward and had what I considered a really strong interview, especially by golf standards, and he gave me great material on his career, the extraordinary comeback he'd made from the depths of the game, and more. Of course, I then went and horrified my editor by writing an 800-page book (a dumb mistake, based on not knowing how Microsoft Word pages corresponded to book pages), and I had an immediate mandate to cut it in half. That meant the loss of so much material, including everything about Todd himself. When he appeared in the book, it was to give "perspective" on guys like Bubba Watson, with whom he shared a UGA connection: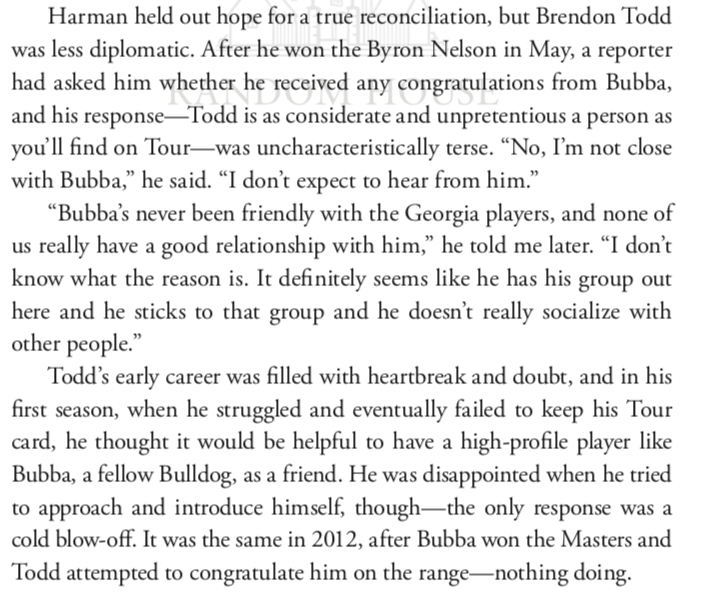 Unfortunately, everything about his own life, and his win at the Byron Nelson, had to be cut. I felt I made that right last fall when I was able to write a feature called "Brendon Todd and the Art of the Painful Comeback" at Digest. I used some of the material from 2014, and spoke with him again on the phone about the second spiral into the golf abyss from which he emerged with two victories in the fall.
He's at no. 49 in the world rankings right now, and he's tied for the lead at -5 in the PGA Championship after Thursday's opening round. There is an awful long way to go, though, especially considering the way he's played in the final rounds at a few recent tournaments. Last week alone, at the WGC, he held a one-shot lead heading into Sunday, but shot a 75 to drop all the way to T-15. He couldn't hit a birdie putt to save his life after pouring them in the first three rounds, and at some point something in him seemed to break. It was similar at the Travelers a few weeks earlier—shockingly similar, actually. Again, he held a Saturday lead, and again he settled for par after par on the front nine on Sunday before breaking down on the back, shooting the same 75, and falling to T-11.
You look at that evidence, and it's very easy to think that no matter how he plays in San Francisco today and tomorrow, reality will come calling on Sunday. If he can't hold it together in Connecticut or Memphis, how can he do it at a major?
I don't have a very convincing answer, except to say that he has won before, and he has done it recently. I'm not sure what demons are appearing on Sundays post-pandemic, but I know that he's easily one of the most resilient golfers on the PGA Tour, having twice fought back from golf's version of hell—broken swing, plummeting world ranking, shattered confidence. The fact that he put up a 65 yesterday, just four days after his Memphis collapse, shows his unique bounce-back ability.
I don't know why I have this feeling, but I have it anyway. Something special is happening in San Francisco this week. You can laugh at me in a few hours when he shoots 87 and falls into a lake, but I can't help thinking that it's the perfect way to complete this narrative. He keeps coming back, and coming back, and coming back, and if anybody can figure how to exorcise the ghosts of Sundays past, it's Todd. To quote Ben Crenshaw, for approximately the eleven millionth time in my life, "I'm a big believer in fate…I have a good feeling about this. That's all I'mma tell you."