I have to say, it was incredibly nice to watch baseball this past weekend. I knew I missed it, but when I settled in with the games (mostly Yankees, but I skipped around a bit), I realized how nice it truly is. I drifted from baseball at times in the past decade, after moving from New York to North Carolina, but I'm completely back in the fold now. And yes, it's completely depressing that 14 Marlins have been infected, their game tonight is canceled, and the entire season is now under threat. Here's hoping that A, they get this outbreak under control, and B, there's enough fortitude and forward planning within MLB to ride this out.
Today, in baseball's honor, I want to go back the year 1941 and look at one of sports' "unbreakable" records. That year, Joe DiMaggio hit safely in 56 straight games, breaking the record of 45 games set by Wee Willie Killer back in 1897. Since then, only one person has managed to get past 40 games, and that was Pete Rose in 1978, who came up one shy of Keeler at 44 games. That's close to DiMaggio, but not that close. For anyone to break the record today, it would require more than just superlative hitting—it would involve intense media scrutiny and national pressure of a kind that would grow increasingly stifling. If it happened within the same season, it would take about nine-and-a-half weeks, and the tension would be absolutely crushing. The absurd physical standard combined with the mental rigor makes this record, in many minds, untouchable.
Rather than talk about the triumphs of DiMaggio's streak, I want to take a closer look at the near-misses; the times when it almost came to an end, stopping history in its tracks.
May 29: 14 Games
Playing against the Senators, DiMaggio hit a clean single in the sixth inning, but it didn't matter—rain came in the top of the inning, and by the rules of the day, the game ended in a 2-2 tie and wiped out anything that had happened in the sixth. That meant, for streak purposes, DiMaggio's at-bat was erased. Lucky for him, he hit a pitch off of home plate in the fourth inning, booked it for first, and barely beat the throw. In the Times version, it's interesting to notice that they don't mention the streak yet:
The streak had earned mention in a couple New York papers the day before, but it was still little more than a novelty.
May 30: 15 Games
A day later, against the Red Sox, this was the lede in the Times: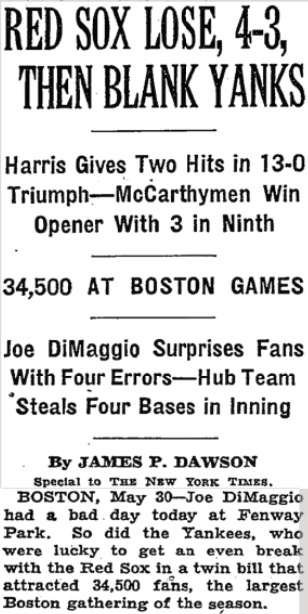 And to be fair to Dawson, for errors is a TON for an outfielder to make, even over two games (he threw the ball into the literal stands twice), and also, there was no way for him to know what the future held. But in hindsight, the first game in particular was actually a major sigh of relief for Joltin' Joe. Heading into the ninth inning, he was 0-for-1 with two walks. The Yanks rallied, though, and DiMaggio hit a single to push the streak to 15 games. It also gave the visitors a come-from-behind 4-3 win before getting trounced 13-0 in game two.
June 10: 25 Games
DiMaggio had just one hit in this game against the White Sox, and it came in the seventh inning. The Times wrote that he "scratched a single to preserve his straight-game hitting mark," and here was the Chicago Tribune:
Neither account raises a ton of doubt about the call by the official scorer, but it certainly sounds as if it were at least error-adjacent. Keep that in mind.
June 17: 30 Games
Dan Daniel was the name of the official scorer at Yankee Stadium, and also a pretty well-known journalist in New York, and over time he has come in for a great deal of criticism for his rulings during DiMaggio's streak. None were quite as controversial as his ruling in a June 18 game against the White Sox, when DiMaggio hit a grounder to short that Luke Appling muffed, and was ruled a hit. The Times made it sound like a bad hop:
By that definition, it's not improper to call it a hit, but as Effrat notes, it's definitely lucky. The Tribune (again, the Yanks were playing the White Sox) mentioned it only in passing, so the bulk of the evidence weighs in Daniel's favor that this was, indeed, a hit. That hit gave DiMaggio the longest streak in Yankee history.
June 24: 36 Games
In this game against the St. Louis Browns, DiMaggio needed a hit in the seventh inning, and Browns manager Luke Sewell told pitcher Bob Muncrief to walk him. According to Newsday, Muncrief refused, and Sewell backed off. In Kostya Kennedy's 2011 book about DiMaggio's streak, he wrote that Sewell walked to the mound, and told Muncrief that "I don't want this son of a bitch to get a base hit," and threatened to pull Muncrief from the game when he refused. But Muncrief responded with, ""You take me out of the game and I'll go up there in front of everyone and apologize to DiMaggio. He doesn't deserve this. Let me get him out, Skip." Pissed, but not wanting to be embarrassed, Sewell headed back to the dugout. The post-script, of course, is that DiMaggio got his hit.
June 28: 40 Games
In contrast to Muncrief, Philadelphia A's pitcher Johnny Babich showed a dearth of competitive integrity when he bragged to local media that he was going to get DiMaggio out in the first at-bat and then give him nothing to hit. It went according to script when DiMaggio popped out in the first, and when he came up again in the third inning, Babich threw him three straight balls to run the count to 3-0. The fourth pitch was high and outside, but DiMaggio, furious at Babich, flailed at it anyway. The result was a rocket back up the middle that nearly hit Babich on its way to center field. Interestingly, as you see from James Dawson's lede in the Times, most of the media at that time was ignoring Keeler's streak, and considered George Sisler's mark of 41 as the number to beat, meaning that DiMaggio was just two games away when he faced Babich:
The very next day, Joe DiMaggio extended the streak to 41 and 42 games in a doubleheader against the Senators, despite the fact that his bat was stolen. Increasingly, the Keeler 44-game mark had been discussed in the press and by DiMaggio himself, and two days later, in another doubleheader, he tied that record against the Red Sox. A day later, he broke it, and the first three paragraphs in the Times story are pretty spectacular: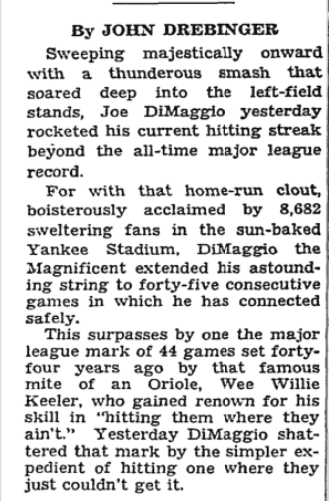 And there it was—the record belonged to DiMaggio. Of course, he then hit safely in 11 more games, turning an impressive record into an impossible one.
*
As always, please feel free to forward this post to anyone you think might enjoy it. If you're reading this as a non-subscriber, you can subscribe here for three written posts and two podcasts each week.